The newspaper BlankSpot #0 which reports from the world's 'white spots' (areas ignored by other media) was awarded the Publishing Prize Grand Prix in 2016. The broadsheet paper is an "annual report" for the more than three thousand citizens who contributed to the financing of the digital reportage site Blankspotproject. The newspaper also won the Organizational Magazines category, where the jury in its citation highlighted photo journalism, typography and printing quality.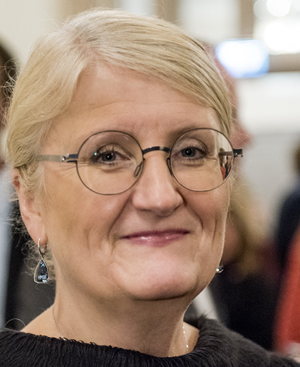 Brit Stakston, digital strategist at Blankspot Project, congratulations on the success of your newspaper. How have you celebrated?
– Cheered and proudly told all our lovely readers and sponsors! Otherwise we are quite useless at celebrating, but Nils, art director Anders Birgersson and I ate a good dinner after the prize ceremony.
You say that you chose the broadsheet format as a tribute to journalistic legacy formats. What is it you really acknowledge?
– Journalism's roots – the craftsmanship and the ability to tell who, what and why. The Blankspot project has always been about showing the importance of journalism in society and what distinguishes it from other matter published on the web. We wanted to demonstrate that people want to pay for this and also show why journalism costs money.
When we later wanted to show those who supported us what we have done with the money, we made a "best-of-Blankspot". We had become very high profile as innovators in the industry and therefore – as a digital magazine – we thought it was fun to unexpectedly make a printed newspaper in a classically glorious size. Today we use the copies we have left as the world's largest business card.
What challenges did you meet when you worked with the broadsheet format?
– Oh, it was lovely! It was a challenge to make a selection from all that we had published digitally. But it was so lovely to work with text and photo journalism at this page size. And the response was amazing. Some were outraged: "We do not want paper newspapers!" – "I do not even have a table large enough"; others loved to read the stories in this format, and testified that this was the first time that they had read the whole reportage from beginning to end.
That it turned out so exceptionally well is of course because we worked with some of the industry's finest. There was the brand strategist Johan Ronnestam, with whom we developed the concept and idea; and art director Anders Birgersson immediately saw how our vision could be realised, and built a fantastic publication design. On our side, the work was led by Nils Resare as editor. These people probably had a long list of challenges, but an equally long list of all sorts of things that were enjoyable about working in this beautiful format.
I guess the only really difficult challenge was that it turned out that there was only one printing company which could manage to produce the broadsheet format.
What is the interest in high quality citizen-funded journalism in Sweden and in the world?
– We founded Blankspot on the basis of a deep conviction that the connected world citizen longs for multiple perspectives on the world. When we started, the industry in general was so discouraged, and doubted its role in relation to the net and what is shared there. We wanted to proudly highlight journalism and its democracy-supporting role. Interest is also raised by the fact that the readers can and want to contribute their own expertise knowledge. We work close to the readers before, during and after the emergence of the stories.
Where do the revenues come from? 
– Revenues for Blankspot have three streams: subscriptions, sales of stories and knowledge, plus funds and support from private investors and funds. It will take a while before we reach our goal of subscriptions accounting for 70 percent of revenues. Meanwhile, it is important to sharpen the business model and expand revenues in various creative ways. Today, the vast bulk of revenues comes from private financiers.
Why is there a need for Blankspot?
– The need for quality journalism has never been greater than today. The greater the flow of information, the more journalism is needed. Therefore, we also want to be a movement for journalism as such, and to promote the cause that news should be driven not only by journalists but also by our readers. Using journalism and stories, we want to shed light on Sweden's blind spots, and the world's unreported spots. To sum up, we want our work to increase knowledge about journalism's role as the foundation of democracy, and thus serve as a vaccine against the routine questioning of the media.
What does the future of the project look like?
– Incredibly positive – though we have the same challenges as everybody in the industry, in terms of revenues. We feel a tremendous responsibility for having brought fresh hope to an industry that was losing hope. The kind of quality journalism we offer means a lot, not only to the individuals in the stories whose story deserves to reach out, but also for the readers and their understanding of the world. We have succeeded in doing an amazing amount in a very short time, and feel like a persistent bumblebee struggling in the wind.
What does it mean for Blankspot Project to win The Publishing Prize Grand Prix?
– A strong brand is very important for the process we are in, and this kind of attention contributes to precisely that. Every chance of visibility and the possibility to spread the word about Blankspot and our journalism mean a lot to our chance of reaching out and increasing the number of readers.
Thank you Brit, and good luck with your important project!
Lillemor Bulukin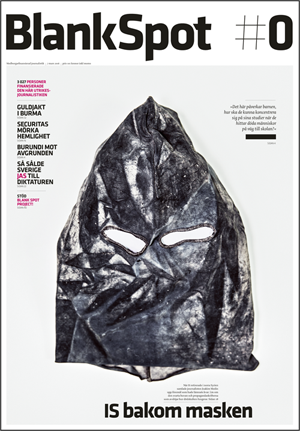 Citation for the Publishing Prize Grand Prix: For keen journalism that exudes courage and commitment – a giant of area and content.
Citation for the Publishing Prize in the Organizational Magazines category: For well-written texts, excellent typography, sharp photojournalism and impressive print quality – ambitious.
Blankspot Project
Blankspot Project is a digital popular movement which monitors the world's unreported spots through citizen-funded journalism from around the globe. The project started in February 2015. The editorial staff consists of Martin Schibbye (editor in chief) and Nils Resare (editor). Read more on blankspotproject.se/in-english
PHOTOS: Fredrik Stehn and Stina Stjernkvist